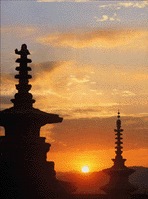 The color of the belts used is by no means merely some random selection of colors to distinguish the different ranks. Each belt color has a meaning symbolizing advancement and increased awareness.
The color belt system is not just a representation of rank advancement, it is also is an acknowledgement of individual personal growth. Such advancement signifies not only growth within the dojang (training hall), but that of positive character and growth outside of the dojang.
The interpretation of the belt colors, which follows, is but one of many possible meanings. For example, the color blue could represent the water, as opposed to the sky, which the plant receives in order to continue to grow.