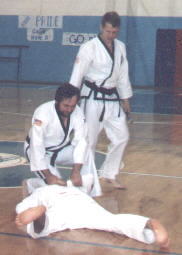 Police Training: Vol. 2 (Baton Techniques)

These programs are for use by police, law enforcement and military personnel.

Grandmaster Benko, 9th Degree Black Belt and Founder of the ITA (International TaeKwon-Do Association™) shows step-by-step how to subdue and restrain an opponent using empty hand and baton techniques without the use of "excessive" force.

The presentation Includes defenses against unarmed and armed assailants.