The International Hapkido Federation™

The International Hapkido Federation™ is an organization consisting of Individuals, Instructors, and Masters, dedicated to the education, and unification of those who wish to learn, teach, and advance in rank in Hapkido. The IHF is a non-political Hapkido organization. The IHF is dedicated to teaching the principles of Hapkido as taught by the founder of Hapkido, Choi Yong-Sul, as passed on by Grand Master Benko.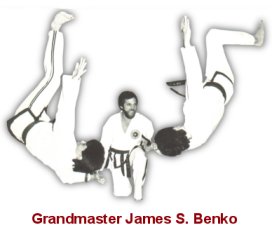 In order to provide proper leadership, direction and unity to Hapkido practitioners, Grand Master James S. Benko founded the International Hapkido Federation™ in 1971. Under Grand Master Benko's leadership and guidance, the IHF has become one of the most respected governing bodies of Hapkido in the world. Grand Master Benko is one of the highest ranked non-orientals recognized throughout the world.
IHF has developed a vast DVD video collection of training presentations, and an extensive book collection. The presentations and programs are designed to help IHF members increase their knowledge and abilities, as they prepare to advance through the ranks. The training aids can also be used to prepare individuals to advance in rank in other areas such as Korean Swordsmanship and Korean weapons.
The IHF offers authentic rank certification in Hapkido, as well as instructor and dojang (school) certification. Once registered with the IHF, instructors will be able to test their students through the IHF to insure their ranks are officially registered and recognized.
Those who are dedicated to practicing and teaching Hapkido can, perhaps for the first time, finally be able to take pride in the organization they belong to. The IHF is a safe haven to those who wish to practice Hapkido without having to concern themselves with power struggles amongst organization instructors. Do not be mislead by other organizations and instructors claiming to be part of the International Hapkido Federation. Feel free to use our IHF Instrructor/School Verification Form which can be found on ou main page.


Top of Page