Yang Tai Chi
For Beginners
by Dr. Yang, Jwing-Ming

---
Overview
Learn Tai Chi Step-by-Step with Master Yang Tai Chi Chuan is a kind of moving meditation with ancient roots in Chinese martial arts.

In this program, Dr. Yang, Jwing-Ming teaches you the complete traditional Yang-style long form step-by-step, while explaining the meaning of each movement.

Yang Tai Chi is the most popular style in the world, and it is practiced by millions of people every day. By practicing Tai Chi, you relax the mind and body deeply, which is the key to maintaining and improving your health. When you are calm and centered, your body's natural restorative abilities are most efficient.

Regular practice can benefit your strength, flexibility, bone-density, and muscle mass. The low-impact exercise has been shown to improve symptoms of depression and insomnia, and promote the healing of chronic conditions.

Tai Chi is an excellent way to relieve stress, lower your blood pressure, and develop a positive attitude toward life. Tai Chi will increase your circulation of blood, nutrients, and energy throughout the body, resulting in improved vitality and longevity.

Master Yang instructs the complete Tai Chi form from the front, and shows each movement one-by-one from multiple angles. There is also a rear view of the form that you can simply follow-along with once you're familiar with the movements.

Tai Chi will develop your mind's alertness, awareness, and concentration. Most importantly, as you practice, pay attention to the feeling within the movements, so you may appreciate the profound essence of Tai Chi Chuan.

Learn the form step-by-step
Easy to follow with front or rear angle viewing
Low-impact movements; good for all fitness levels
Every movement explained in detail

"The Harvard Medical School Guide to Tai Chi" says: "regular practice leads to more vigor and flexibility, better balance and mobility, and a sense of well-being. Cutting-edge research from Harvard Medical School also supports the long-standing claims that Tai Chi also has a beneficial impact on the health of the heart, bones, nerves and muscles, immune system, and the mind."

Biography
Dr. Yang, Jwing-Ming started his Gongfu (Kung Fu) training at the age of fifteen under the Shaolin White Crane (Bai He) Master Cheng, Gin Gsao. In thirteen years of study (1961-1974) under Master Cheng, Dr. Yang became an expert in the White Crane style of Chinese martial arts, which includes both the use of bare hands and of various weapons such as saber, staff, spear, trident, two short rods, and many others. With the same master he also studied White Crane Qin Na (or Chin Na), Tui Na and Dian Xue massages, and herbal treatment.

At the age of sixteen, Dr. Yang began the study of Taijiquan (Yang Style) under Master Kao, Tao. Dr. Yang's tai chi can be traced back to the Yang family through Master Kao's teacher Yue, Huanzhi, an indoor disciple of Yang, Chengfu. After learning from Master Kao, Dr. Yang continued his study and research of Taijiquan with Master Li, Mao-Ching and training partner Mr. Wilson Chen in Taipei. Master Li learned his Taijiquan from the well-known Master Han, Ching-Tang, and Mr. Chen learned his Taijiquan from Master Chang, Xiang-San. Dr. Yang has mastered the Taiji barehand sequence, pushing hands, the two-man fighting sequence, Taiji sword, Taiji saber, and Taiji Qigong.

Dr. Yang's tai chi lineage can be traced back to the Yang family through Grandmaster Kao, Tao and his teacher Yue, Huanzhi, an indoor disciple of Yang, Chengfu.

Becoming a Teacher
When Dr. Yang was eighteen years old he entered Tamkang College in Taipei Xian to study Physics and also began the study of traditional Shaolin Long Fist (Changquan or Chang Chuan) with Master Li, Mao-Ching at the Tamkang College Guoshu Club (1964-1968). He eventually became an assistant instructor under Master Li. In 1971 he completed his M.S. degree in Physics at the National Taiwan University and then served in the Chinese Air Force from 1971 to 1972.

In the service, Dr. Yang taught Physics at the Junior Academy of the Chinese Air Force while also teaching Wushu. After being honorably discharged in 1972, he returned to Tamkang College to teach Physics and resumed study under Master Li, Mao-Ching. From Master Li, Dr. Yang learned Northern style Gongfu, which includes both barehand techniques, especially kicking, and numerous weapons.

Ph.D in 1978
In 1974, Dr. Yang came to the United States to study Mechanical Engineering at Purdue University. At the request of a few students, Dr. Yang began to teach Gongfu (Kung Fu), which resulted in the foundation of the Purdue University Chinese Kung Fu Research Club in the spring of 1975. While at Purdue, Dr. Yang also taught college-credited courses in Taijiquan. In May, 1978 he was awarded a Ph.D. in Mechanical Engineering by Purdue.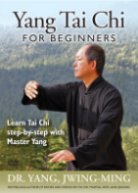 ISBN: 978-1-59439-230-6
Run Time: 239 min.
Number of Discs: 1
Language: English
Format: NTSC
Contact: budovideos.com

Rating: