East Wind Tai Chi Association

Welcome to the offical website for the East West Tai Chi Association. The ETA is an organization consisting of Individuals, Instructors, and Masters, dedicated to the practice, and teaching of the Chinese Art of Tai Chi.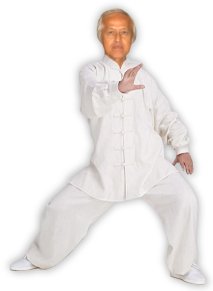 The ETA teaches the Tai Chi 8 form, the Tai Chi 24 Simplified Form, and Seniors Programs which are based on these forms.
The ETA offers both Individual Membership and Tai Chi Instructor Certification. Instructors may register their students with the East Wind Tai Chi Association.

Our programs are designed to meet the practiioner's needs. Everyone starts at his or her own pace as the instructors guide them through each movement. As the student's range of motion increases so does flexibility and agility.

The tai chi movements taught to seniors are introduced in sections. In this manner the student is able to learn as many movements of a "section" as he or she is able to remember. Some seniors may only be able to remember three or four movements when beginning. Others may be able to commit to memory an entire "section" of movements. Seniors are able to progress at a pace which best suits their abilities.

We would like to express our thanks to Tae Kwon Do Journal™ for listing us on their website. We shall, from time to time, be publishing articles and listing our events in Tae Kwon Do Journal™.


Copyright © 1998- ITA Institute and the East Wind Tai Chi Association.
All rights reserved.