Tai Chi for Seniors
Tai Chi is a way to help seniors experience a healthier and fuller life. No matter what your age you too can reap the benefits of better health though the practiice of Tai Chi. Tai Chi helps stimulate your mind, body, and spirit. The slow fluid motions, using your entire body, helps increase circulation, respiration and flexibility.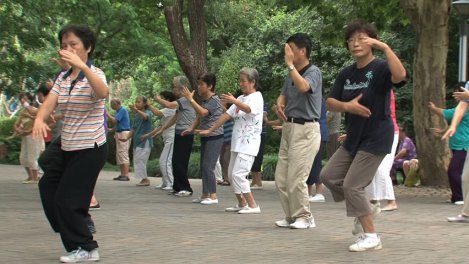 Our programs are designed to meet the practiioner's needs. Everyone starts at his or her own pace as the instructors guide them through each movement. As the student's range of motion increases so does flexibility and agility.

Beginners start with the Tai Chi 8 Form. The 8 Form was created was because many people struggled trying learning 24 Form, so the experts reated the 8 Form to reduce the number of movements, and the range of the student's movement. You can practice at home alone, or with a group. This form is excellent for seniors to begin with. As students progresses, they will, move onto the Tai Chi 24 Simplified Form.

Relaxation is an integral aspect of tai chi. With all of the tension and stress individuals have to deal with in the world today, learning to relax can prolong a person's life. By focusing on the movements of the tai chi forms, students soon find their attention is so focused on the detail of the movements, they are unable to think of other concerns and worries, thus resulting is a more peaceful state of mind.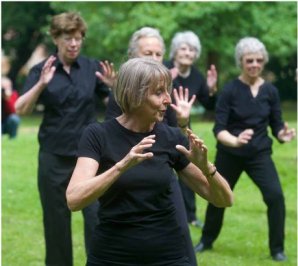 Another benefit of tai chi practice is, that after performing tai chi for some time the student may be able to more easily maintian balance when doing simple activities, which may have been more difficult before, such as climbing stairs or even walking.

The tai chi movements taught to seniors are introduced in sections. In this manner the student is able to learn as many movements of a "section" as he or she is able to remember. Some seniors may only be able to remember three or four movements when beginning. Others may be able to commit to memory an entire "section" of movements. Seniors are able to progress at a pace which best suits their abilities.

A person's flexibility may be limited due to physical problems or sometimes from lack of activity. After seniors have practiced for some time they begin to notice their range of movement and flexibility have increased making their lives more enjoyable.

Seniors are able to practice tai chi anytime, and anywhere they like. In the morning, as millions of Chinese do everyday, or during the day when they have free time, or perhaps sometimes in the evening to help them relax, clear their minds and prepare them for a night of restful and refreshing sleep.

If you are interested in teaching Tai Chi to seniors, you may wish to apply for Instructor Certification. Not only will you be able to contribute to the wellness of your students, you develop a feeling of pride in helping others only a teacher is able to perceive.